UV astronomers participate in a study that will use the most powerful spetrograph in the world
UV astronomers participate in a study that will use the most powerful spetrograph in the world
Researchers from the Institute of Physics and Astronomy of the Universidad de Valparaíso (IFA-UV) will be part of the CHANCES Project , which will begin to use one of the most powerful instruments in 2023 of the planet.
• To read this new Visit our Local WebSite ( in spanish)
Créditos: Pamela Simonetti UV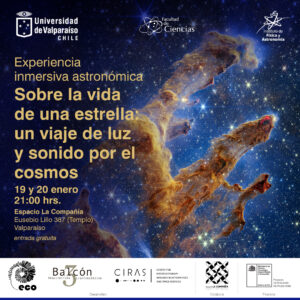 Una maravillosa experiencia astronómica de luz y sonido para conocer cómo es la vida de una estrella se presentará este viernes 19 y sábado 20 de enero a las 21:00 horas en Espacio La Compañía.
Leer más »
Un manual de astronomía inclusiva dirigido a docentes y cuidadores de personas con discapacidad visual se lanzará este sábado 7 de enero a las 11:00 horas en la Sala Juan Mouat, ubicada en la Avd. Gran Bretaña 1111, Playa Ancha, Valparaíso.
Leer más »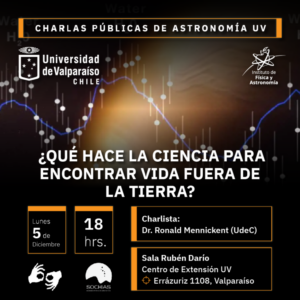 El reconocido astrónomo Dr. Ronald Mennickent finalizará el ciclo de charlas públicas de astronomía 2022 que organiza el IFA-UV. La actividad contará con intérprete de lengua
Leer más »