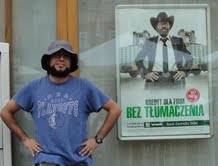 PhD: Universidad Federico Santa María (2009)
Research Area:  Gauge / Gravity Dualities, Hadron Physics, AdS / QCD
Publications: INSPIRE
Telephone: (+56 32) 250 8228
email: alfredo.vega at uv.cl
About my research: Application of Gauge / Gravity dualities in Hadronic Physics in the Bottom - Up approach using AdS / QCD models as well as Light Front Holography. Study of very energetic Cosmic Rays and some aspects of hadronic phenomenology using quark potential models.s.
Teaching: Mechanics, Mathematical Methods of Physics I and II, Contemporary Physics.
See my research in: Particle Physics - Gravitation